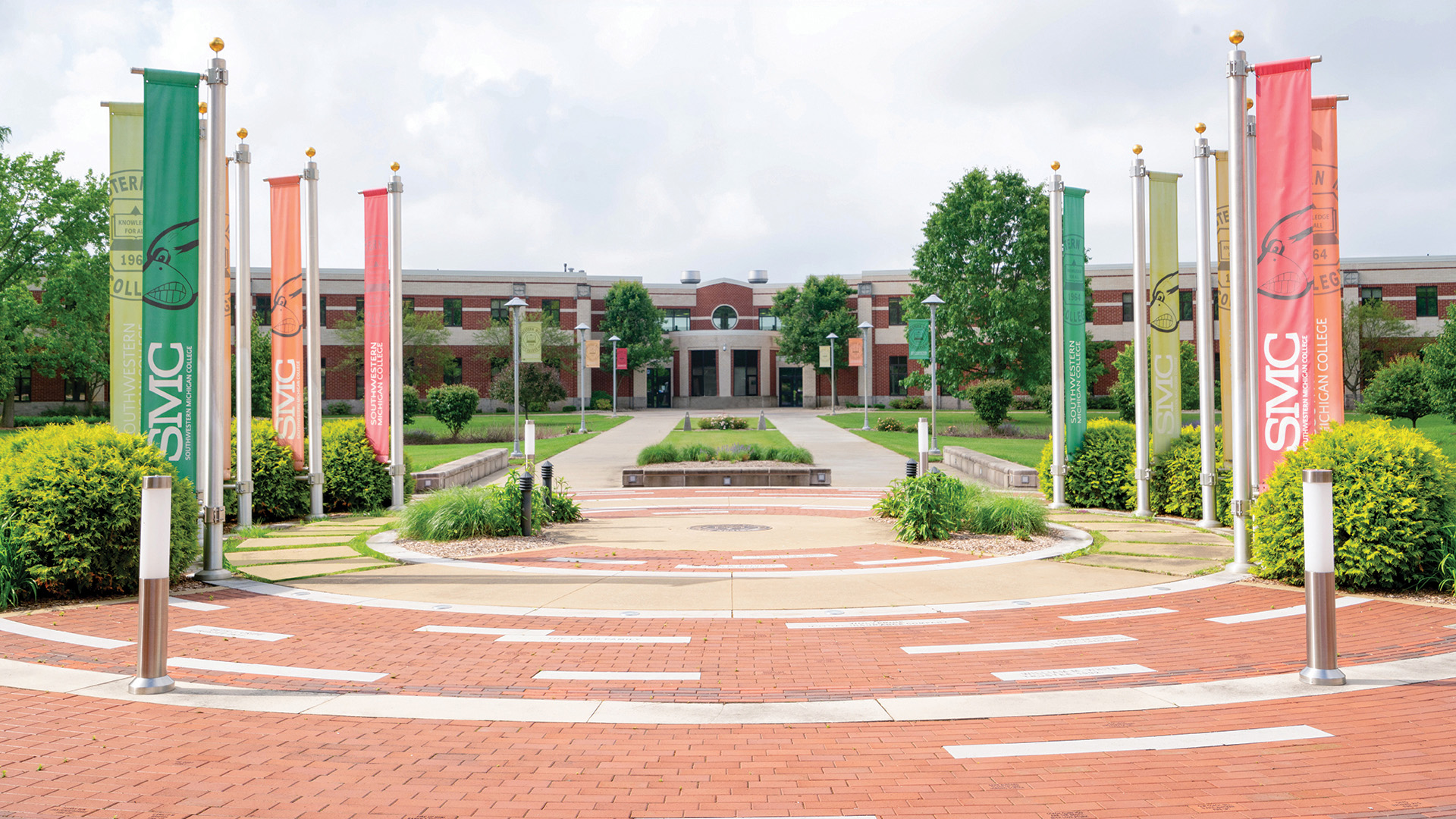 '97 SMC Graduate Picks Dermatology Nurse Practitioner
Published on March 14, 2023 - 11 a.m.
Coming out of Elkhart Memorial High School, Jaimee Kamp, MSN, RN, FNP-C, attended Purdue University because she wanted to be a food scientist. But organic chemistry did not go well. She took a semester off and worked in food services and health care as a CNA, or certified nursing assistant.
"Most people have several professions that fit their personality," she said. "My testing only showed two: nursing and teaching. I found out that I like to take care of people. I did not ever expect that to happen, but it was my calling."
"I moved home after my friends graduated and decided to pursue nursing. Originally I went to IUSB. They told me I would never be able to be admitted into their nursing program. I applied to Ivy Tech and Southwestern Michigan College. SMC was more affordable and I was able to get right in the nursing program" in 1995.
"I do not have a warm and fuzzy story, I'm sorry," the Beacon Health System Family Nurse Practitioner said. She worked as a CNA from her time at Purdue until she graduated from SMC in December 1997. She passed her boards in February 1998.
"Being a certified nursing assistant is a thankless, hard-on-the-back, exhausting job," said Kamp, who has been practicing dermatology since 2018. "I learned what kind of nurse I did not want to be. I didn't actually know what type of nursing I wanted to do out of school. I wanted to work and learn everything. I actually was hired at Elkhart General Hospital after my first child was born. I worked as a float RN. This gave me the ability to learn about all aspects of nursing. After about a year I did acute care float nursing. This still involved all of the non-specialty departments, but allowed me to go to ICU and ED. I fell in love with ED and transferred permanently to (the emergency) department."
Kamp earned her bachelor's degree in nursing from Goshen College in 2005-06 in the pilot class for GC to bring the bachelor's completion program to Elkhart General.
She added her master's degree in family nurse practitioner from Ball State University in Muncie, Ind., from 2010-14 through its distance education program.
During her NP career, she worked in cardiology with Goshen Health System, but it proved "not a good fit," though she did work with "the other Jami Kamp, NP. There are two of us."
With Elkhart Emergency Physicians Inc. from 2015-18, she served Goshen General and Elkhart General hospitals.
As a dermatology nurse practitioner, "I see general dermatology patients," Kamp said. "I treat everything on the skin — rashes, skin lesions, skin checks, biopsies, cosmetics — basically anything that can happen on the skin, we treat and do the work-up."
This meant six months of one-on-one textbook training with her collaborator, Dr. Luiz Pantalena, and more training with another advanced practice clinician (APC) until she was comfortable seeing her own patients.
'People think we only treat acne'
"Dermatology is a difficult specialty," Kamp said. "People think we only treat acne. There are too many things that can happen on the skin — connective tissue diseases, skin cancer, autoimmune disease, rashes. I am always learning, which makes it fun. It was not a difficult transition. I like to be busy and learn."
That's what appeals to Kamp about dermatology. "Skin and everything that can go wrong with it can tell us hints about what is going on inside. Some systemic diseases manifest on skin. Lymphoma, for example. Autoimmune disease is the most difficult to sort out and is still a learning process even for our most seasoned APC."
On a typical day, Kamp might see rashes and skin lesions, do skin checks and medication follow-ups, lab reviews and patient education.
"I like seeing the elderly," she said. "Sometimes they just need someone to talk to. They all have a story to tell. I do some cosmetic (Botox and laser), but it is not my favorite. Some people are just not happy no matter what."
We can't resist asking about the TLC television series "Dr. Pimple Popper."
"I have only watched this a few minutes on two occasions," Kamp said, but concluded "it causes inappropriate expectations for dermatology patients. Don't get me wrong. I love gross stuff and popping everything I can find. My staff has to tell me 'no picking' on a day bombarded by skin checks. Sometimes, when patients ask me why I went into dermatology my response is actually, 'I love picking everything.' You would not believe how many patients pick at the skin."
Kamp "worked the whole time I was in school. I worked fulltime while I went back for my completion program. Life has not been the easiest for me," but perseverance "did get me where I am today. I do not regret my career choice like a lot of nurses who verbalize this. I chose to pursue my NP so I could provide better for my children (a daughter, 24, and a son, 21) and help with college."
Another goal she realized was wanting to go on a mission trip, joining Bethel College's 2017 Guatemala trip as a provider.