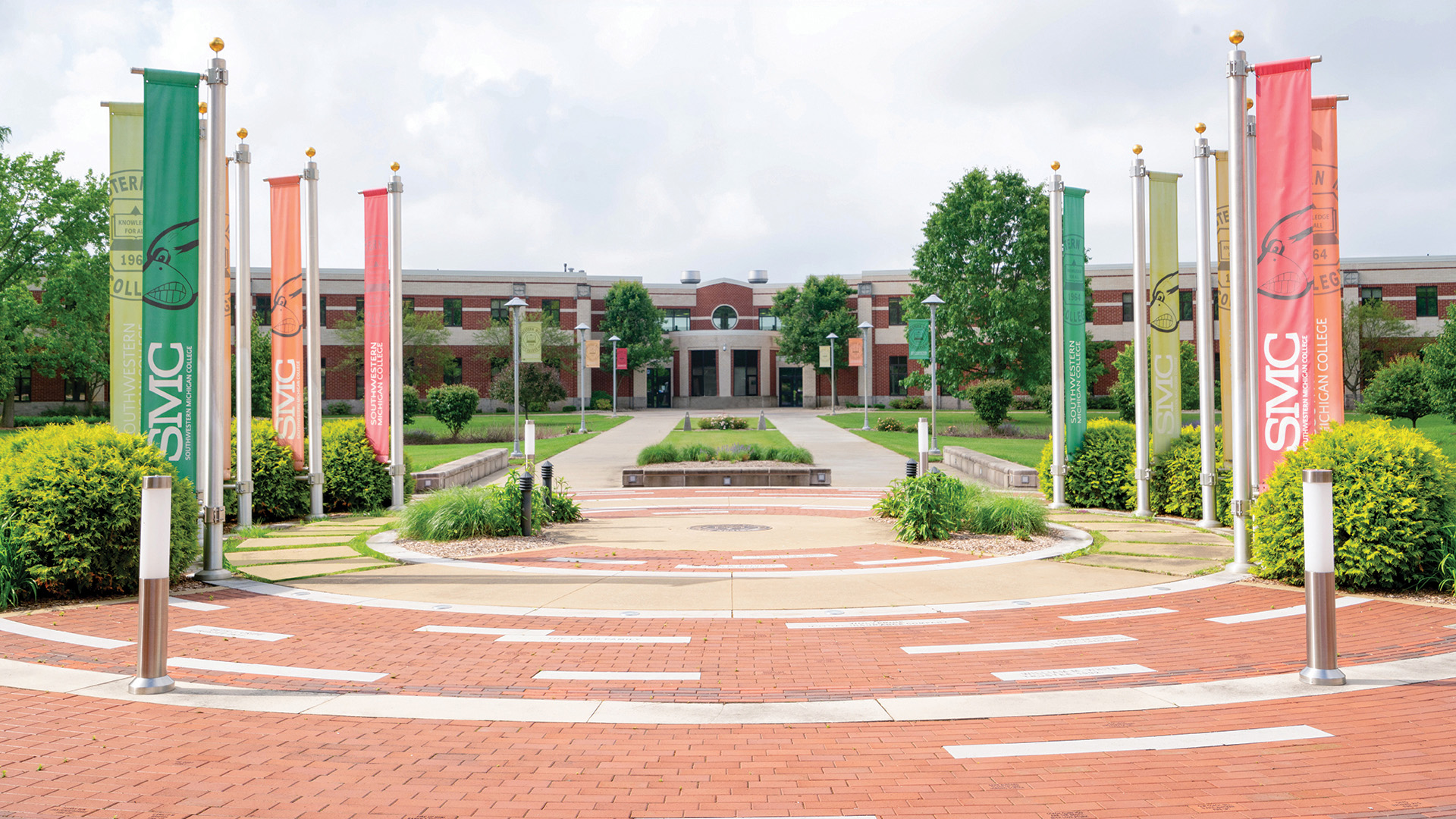 Cabaret a New Experience for SMC Musical Theatre Veterans
Published on November 14, 2022 - 11 a.m.
Since Marcus Jordan cast them in his Southwestern Michigan College directing debut, Nov. 12's cabaret, "Becoming: A Musical Theatre Song Cycle," students have been working independently with voice teachers on three assigned songs.
"He came two weeks ago to observe progress and to give us his feedback," Emilie Kurtz from Berrien Springs High School said. "There's also a group number we've been working on. (Nov. 11) we're doing an intensive musical theatre workshop all morning, then throwing it onstage to learn the blocking."
"High school students will watch us have our workshop with Mr. Jordan," said Emily Potter, who appeared in March's "Godspell" and 2021's "Trouble in Paradise."
Though she loves singing, her exposure to improv through Beckwith Theatre makes Potter consider auditioning with Chicago's The Second City. Her first show at SMC was "Joseph and the Amazing Technicolor Dreamcoat" in sixth grade. "My first musical was in third grade in Dowagiac's 'Wizard of Oz' as a Munchkin."
"We'll sing our pieces. He'll critique and change stuff in front of everyone," Kurtz said. "They'll see his process."
"The primary focus of the cabaret/song cycle genre is storytelling," said Jordan, challenging his performers to "personally connect with song lyrics they are communicating. To share something about themselves with the audience through their song selection instead of portraying a character."
"Emily and I could sing the same song," Kurtz said, "but it would mean something different to each of us because of our life experiences. It's about taking something that isn't necessarily about you and putting your own spin on it so it's meaningful to the audience. I sing 'I'm Not Afraid of Anything' (by 2014 SMC guest Jason Robert Brown) about this woman who has two kids and a husband. Her little girls are afraid of things, her parents are afraid of things, but she's never been held back by fear. But as the song goes on, she's afraid of everything. For me, it's about always being a strong person people have been able to rely on, but life is hard navigating things by yourself sometimes. I have fears, like everyone. I think he chose one song that was like our auditions, but others to challenge us."
Kurtz also sings a selection from 1975's "A Chorus Line" by Marvin Hamlisch and is interested in a musical theatre career.
"It's like a highly thought-out and choreographed concert," Kurtz said.
"Our songs create a story within itself," Potter said. "I sing 'She Used to be Mine' from 'Waitress.' She realizes she's more than messy and imperfect and embraces that. The idea is everyone watching can interpret this story in a way that's meaningful to them. It's more interpretive than a regular musical where the story is laid out for you."
The cabaret concept most reminds Potter of SMC's spring Collage Concerts, "where everyone has their own pieces, but it's still collective. It's entirely different than a musical because we don't have lines or a script."
"I've never done anything like this," said Matthew Hickok, an education major from Brandywine High School in Niles. "I'm doing 'Purpose,' from 'Avenue Q.' It's a mature 'Sesame Street,' essentially. I feel like I'm kind of in the same boat of what I want to do with my life."
Hickok auditioned in late September with "Beetlejuice."
"From an audience perspective it's similar to a musical," Hickok said, "but the process of making it is very different."
Will Lafleur of Chicago, Judas in "Godspell," sings "Tonight at Eight" from "She Loves Me."
"It's about this very nervous guy who has a date, and he's already freaking out about it in the morning," Lafleur said. "(Cabaret) is individual, where a musical is more a group project. I did theatre throughout high school at a community theatre because my high school didn't have a program. I sang in choir and was in band. Senior year, I took a class in downtown Chicago where we did a Shakespeare rap."
"I'm singing "A Change in Me' from 'Beauty and the Beast,' 'Winter Blooms' from 'Alice by Heart' and 'Beautiful City' from 'Godspell,'" said Buchanan's Alicia Ferguson, who is interested in music production as well as performance. She was on "Godspell's" stage crew.
"For me, they kind of represent letting go of the past while also reminiscing, but also being hopeful for the future. I feel I am all of those, but it's a huge learning experience for me personally because I've never been onstage for a solo. I didn't have the preferred musical theatre piece to audition with, so went with 'Castle on a Hill' by Ed Sheeran."
This free public performance takes place at 7:30 p.m. Saturday, Nov. 12, in the theatre of the Dale A. Lyons Building on SMC's Dowagiac campus.