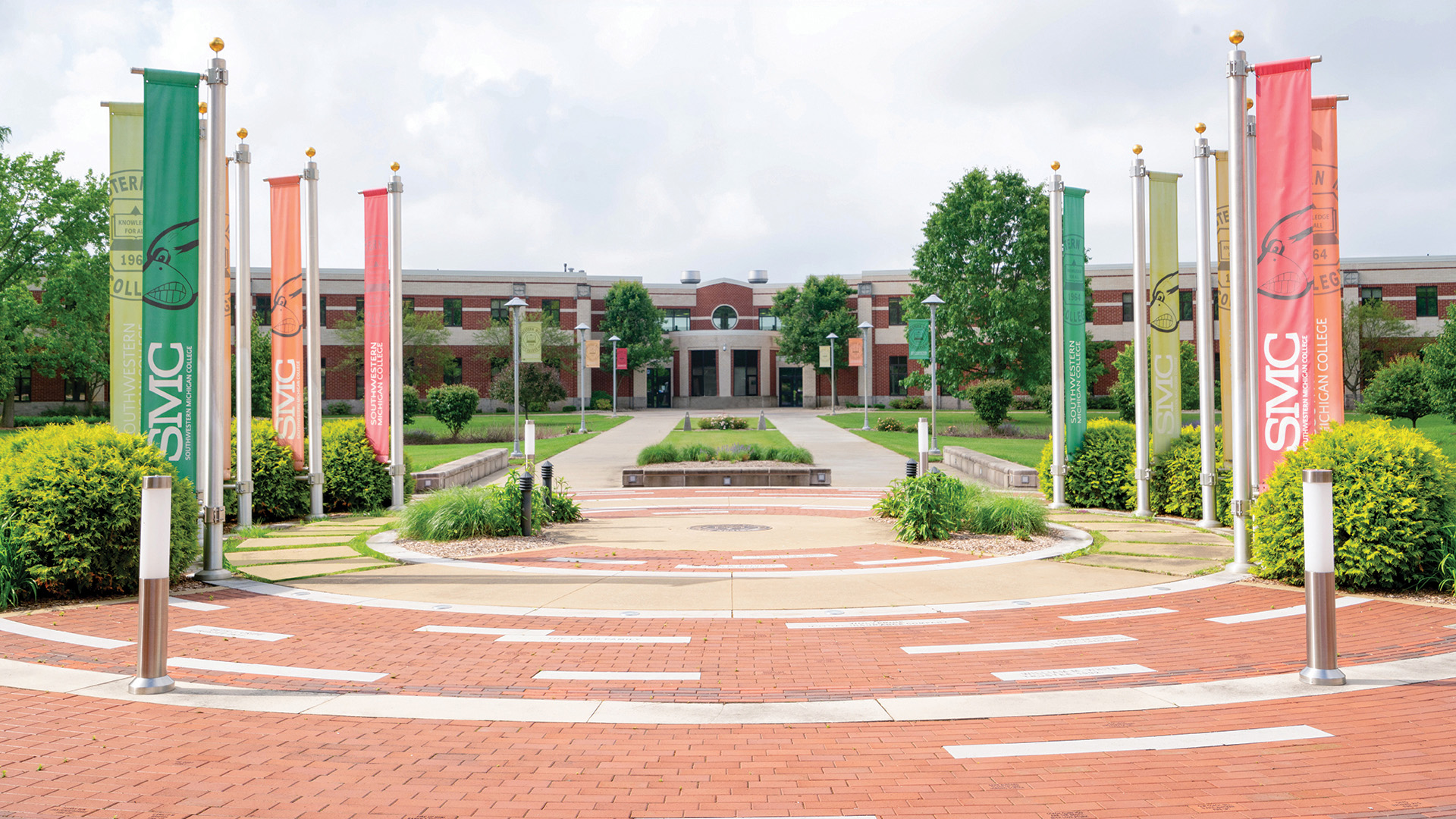 Dowagiac's Choir Director Back to Where He Started
Published on January 20, 2022 - 10 a.m.
Hunter Schuur could not have picked a worse time to land his dream job.
Schuur, Southwestern Michigan College Class of 2015, improbably succeeded Jeff Robinson as choir director, his inspiration to pursue music professionally since singing for Robinson's choirs for six years of middle and high school until graduation in 2013, when he was awarded the Bel Canto (Italian for "beautiful voice") award.
Coming out of Central Michigan University, Schuur taught for a year in Indiana and anticipated returning to Michigan in Gobles, but then the Dowagiac opportunity arose.
In Stephen Sondheim's "Into the Woods," for his 2015 role as Wolf he wore a hairy costume. "That role was so much fun. I had never played a role in such an iconic show. It was my last year at SMC, so I kind of got to go out with a bang. That was the year we had the amazing rotating set.
"I did 'Parade' too, in the ensemble," for which SMC sponsored a two-day residency with Jason Robert Brown, who made his 1998 Broadway debut with the 1999 Tony Award for best score. The dark, ambitious musical explored racism, anti-Semitism and lynch mobs in 1913 Georgia.
" 'Parade,' the stage was all steep tiers and ramps. It was a great show to sing, but pretty intense," Schuur said. "I was in choirs here for four years because I started when I was in high school. (Director of Choral Activities) Dave Carew let me come out and sing with them. And my very last semester I played trombone in the band for Dr. Jon Korzun."
Some may have thought his career plan was to go into library science he so embraced his campus job at Fred L. Mathews Library.
"I'm not going to rule out getting a master's degree in that someday," Schuur said, "but my heart's always been in singing since I met Jeff Robinson in seventh grade. That's what I wanted to do. He has inspired so many. Jenn Schaus, who also went to SMC (2014-16) and CMU, is teaching elementary music in Berrien Springs. Chelsea Whiteoak went through SMC" 2009-11, became choral director for five years at Airport Senior High in Carleton, south of Romulus, "and now she's at Portage Northern," where Josh Bartz, Dowagiac's former band director, teaches.
"Jenn was in 'Into the Woods,' too, as one of the evil step-sisters, and in 'Little Mermaid,' " where she put the family business, Ramona Roller Rink at Sister Lakes, to good use as an eel whizzing around on skates.
"I was really lucky to have Jeff for all six years of middle school and high school. I remember in seventh grade, watching Mr. Robinson up there, doing his thing, and thinking, 'Man! That's what I want to do,' though it's crazy to be back in that same building, on the other side. He taught us life lessons about empathy and taking care of others in our community."
Robinson retired after a 31-year career, including 15 (2002-17) in Dowagiac, and was succeeded by Mary Alice Korth.
Schuur said Robinson "came to the spring concert and congratulated me" after writing him an unsolicited recommendation during his interview process.
Schuur admired Robinson's ability to "create a space where kids could enjoy making music. It was not a high-risk environment where you're afraid to make a mistake. I try to use that teaching philosophy in making my class welcoming."
"What brought me to SMC was Dave Carew," Schuur said. "He is a phenomenal teacher and puts on amazing shows. I've known him since I was in seventh grade as well. I did middle school choir camps and took voice lessons from him in high school. He really made an effort to connect and gave me so many opportunities to sing in his choirs with college students. He expanded my knowledge and love for it tenfold. What Jeff started grew into a big flame, then Dave created like an inferno introducing me to so many performance opportunities. He challenged me, but gave me ways to be successful."
Schuur also studied voice under Marcus Roll, who is a Central Michigan University alumnus. The Chippewas' choir director was the late Nina Nash-Robertson. Robertson retired in May 2017 after directing CMU choral activities for 35 years. Her Chamber Singers appeared at SMC Sept. 26, 2014, for a master class and concert, and returned during SMC's second summer Choral Camp in 2015.
CMU's Chamber Singers focused on a cappella literature of the Renaissance and had performed in Ireland, Czech Republic, Slovakia, Italy, Austria, China, Ireland and France.
"Nina, an amazing teacher, was really close with Dave and Marcus," Schuur said. "I got to watch a master class with Katie Travis," who starred for three years as Christine in "Phantom of the Opera." She and Roll know each other from CMU. Roll was instrumental in bringing the soprano to SMC in 2017 for three days to coach "Children of Eden" for the Summer Institute Musical Theatre Camp.
"She sang at St. John's Episcopal Church (in Mount Pleasant), where I sang. SMC set up a lot of great opportunities for me at CMU. My first year I was in Concert Choir, then I was in the Chamber Singers, their top auditioned group. We went to New York and sang at the state choral directors conference. I did an opera at CMU and was a member of the music fraternity, Delta Omicron. I graduated in 2018."
Schuur's first teaching job was Clinton Central Junior-Senior High School in Michigantown, Ind., a community of about 400 people north of Indianapolis. He lived in Kokomo.
"I drove 30 minutes through cornfields, then all of a sudden, at the end of the cornfield was the school I taught at. The high school was downstairs and the middle school was on the second floor. There was an elementary school across the parking lot. I loved my time at Clinton Central and met some of my best friends there, and I really loved the kids, but it just felt right to come home, where it started in Mr. Robinson's choirs. I would never be on this path without him. I want to try my best to carry on his legacy and bring back the choirs' heyday and sow good things in Dowagiac."
Schuur's working with another former Roadrunner, Kirsten Novak, president of the Fine Arts Booster Club, which started Hunter's sophomore year.
"We provided Thanksgiving baskets, Christmas presents, raked leaves, cleaned the depot, all that stuff Jeff started as the 'Chieftain Coolaborators,' we want to bring back for the community. Helping people gives you a full heart."
Returning home coincided with the difficulties of carrying on through a global COVID-19 pandemic.
"My first year teaching, down in Indiana, I don't see the kids after March," he said. "I come back here and get this job, which is awesome, and it starts with a month of virtual and kids gone for quarantine. Singing's difficult with masks. Last year, we couldn't be in our room because we had to be six to 10 feet apart. You can't hear anybody next to you, so it's like singing by yourself. We're more back to normal. Our numbers went up, from 104 to about 120" between Dowagiac Middle School and DUHS. "We did festival virtually. We hope to get out in the community more. We sang the national anthem at the Chieftain Golf Outing and at Memorial Day."
Schuur, who also teaches a drama class, said, "My first three years have been riddled with the plague. I just hope that the circumstances get safer and easier in the future."
Schuur also holds fond memories of working at Mathews Library with Director of Library Services Colleen Welsch and Coordinator of Library Services Jenn Zimmer. "They're great supervisors, and I had another, Katharine Landstrom. We built strong relationships, and they did everything they could to keep me working in the summer," although in 2018 he joined SMC's painting crew. "I also worked a semester as a (math) tutor for Jane Brandstatter."
Schuur ran into Zimmer outside the Foster W. Daugherty Building during a September campus visit.
"We loved working with Hunter in the library," Zimmer said. "He always was enthusiastic and helpful, to the point where if he just happened to be in the library, he would jump up and help people, even if he wasn't scheduled to be working at that time. Hunter is so talented and has a huge heart. I'm thrilled that the choir students in Dowagiac are now benefiting from all that Hunter has to offer."