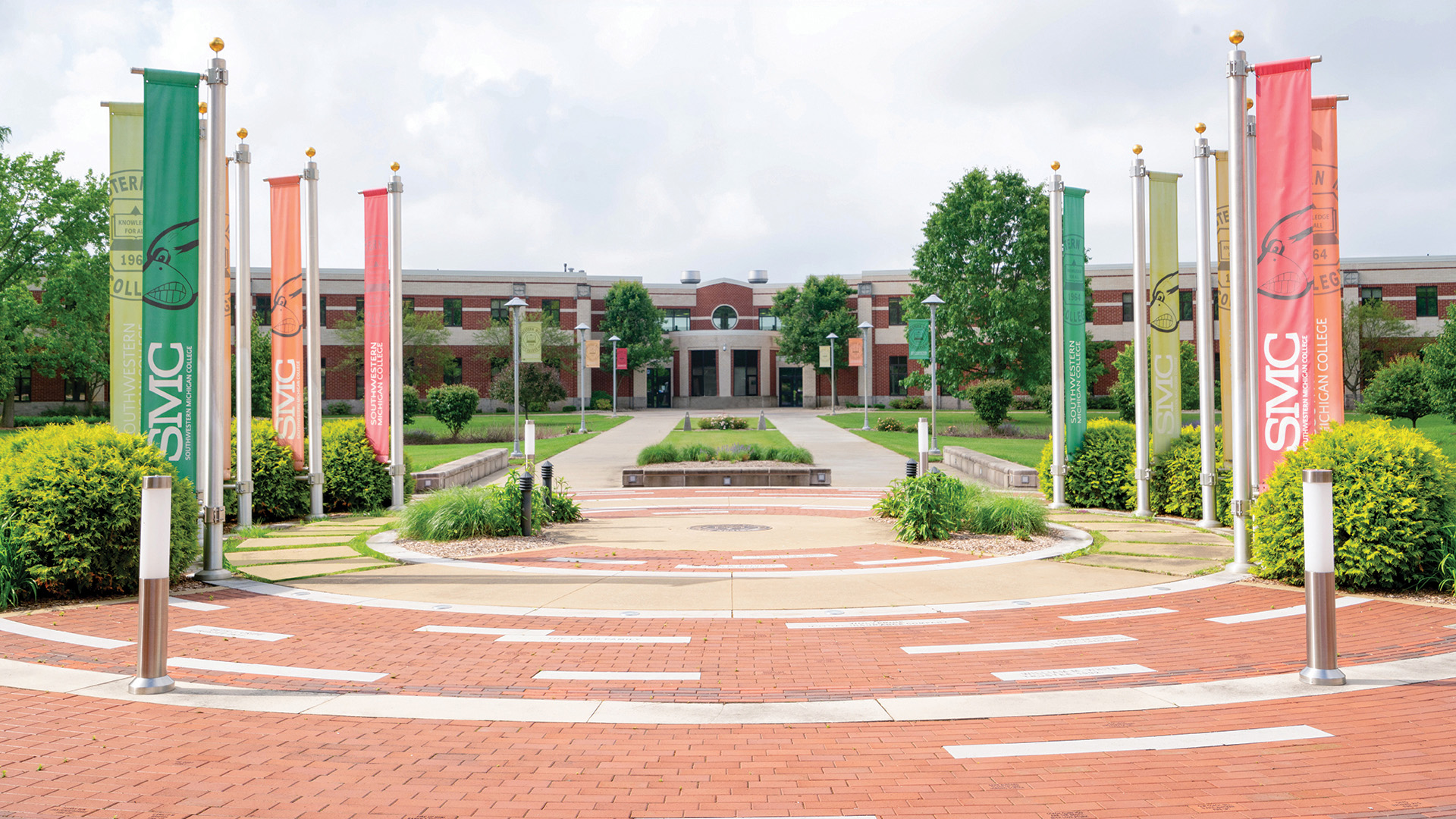 Every Day is a New Opportunity to Make an Impact
Published on September 13, 2022 - 11 a.m.
For Dr. Barbara Karwacinski, who chairs Southwestern Michigan College's Social Science Department, the future is for those who make it and share it. Every day presents new opportunities to see and encourage the potential in her students, just like Ms. Sawicka, an influential teacher in Karwacinski's life, did for her.
Karwacinski grew up on a farm in northeastern Poland, bordering the former Soviet Union. Her parents knew only farm life. She was taught to obey them and God. "The word obey became a synonym of the word love in my heart and in my mind," she said.
Ms. Sawicka was one of Karwacinski's first teachers. According to Karwacinski, she was a "city teacher" banished to the village as punishment for not adhering to government rules. In addition to teaching, Ms. Sawicka opened her home to students' parents to listen to Radio Free Europe. She helped publish and distribute an underground magazine. She also convinced Karwacinski's parents to send her to the city for fifth grade. At that time the government deemed a fourth-grade education sufficient for farm children. Ms. Sawicka had a different opinion.
"I owe her a lot. My parents wanted me to farm and to marry a nice boy. My life changed completely," said Karwacinski. "I don't know why she chose me, maybe because I was always asking questions."
Martial law declared
The next major shift in Karwacinski's life occurred years later. She found herself in a tiny apartment, 200 miles from her parents, "alone and scared," on Dec. 13, 1981.
"When I turned on the radio, I heard the voice of Communist Prime Minister Gen. Wojciech Jaruzelski declare martial law was to be instituted across Poland. The general's address was broadcast over and over on every TV and radio. There was nothing else aside from occasional classical music. Telephones were not working. There were tanks and soldiers in the streets. Curfew was instituted. Polish citizens were no longer allowed to travel freely between towns," she said.
In the days that followed, mail was censored. Food was rationed. Dissidents and anti-communist leaders, including Lech Walesa, were interned. Ms. Sawicka was interrogated and, eventually, jailed.
"I remember thinking, 'I do not want to live in a country where people like Ms. Sawicka go to jail,'" said Karwacinski. Her own father was detained for 48 hours for organizing village farmers to go to the city seeking the teacher's release.
Government chose her college path
After finishing high school, Karwacinski wanted to become a mechanical engineer, but the government needed social studies teachers instead.
"I did not question this governmental decision," she said. "The education was free, and if you had good grades, the government would provide a stipend."
Karwacinski remembers thinking that when she finished university, she could make her own decisions.
She graduated from Warsaw University just as Solidarity changed Poland's political system. "I achieved what my parents wanted," she said. "I was educated and understood more. But I was not free. The communist bureaucratic machine was still going strong."
In 1990, Karwacinski received a five-year contract to teach in a little village across the country, but she chose to leave Poland for the first time to study English as a Second Language at Yale. "This was the first time I made a choice, my own decision regarding my future," she said. "For 10 months, I tasted freedom."
Karwacinski, who holds bachelor's, master's and a law degree from the University of Warsaw, returned to the United States for good in November 1999. She went to Indiana University South Bend, earned 15 graduate credit hours, passes Praxis 1 and Praxis 2 exams and became a licensed, grades 5-12, master-level sociology, government and world civilization teacher. She later professionalized her license, so it was easily transferable from state to state. She found her passion in education and completed a doctoral degree through Andrews University in education, with a concentration in curriculum and instruction.
'I wake up every day and say thank you'
Karwacinski now works to bring out the best in her students, helping each student see their own abilities so they can fly. "I am not the type of teacher who tells you, then you know," she explains. "I am the type of teacher who asks, 'So what do you want from this?' It's the opposite of the way I was taught.
"I believe every person has their own niche. Not everyone is meant to be an engineer or lawyer or teacher, but a teacher can open up something so a student can thrive, and that leads to something incredible in life."
Karwacinski also believes in the power of independent thinking and in people. She puts her beliefs into action by championing students. In fact, she was responsible for SMC becoming the first community college in the nation whose students were admitted into the American Sociological Association Honors Program (ASA) research essay competition, a high-profile, extremely competitive contest.
"Researching the ASA Honors Program, I noticed they never invited community college students," Karwacinski said. "I thought, 'Why not? We have smart students.' We submitted three applications and all three were accepted. In more than 100 years of the program, we were the first community college students accepted."
Southwestern Michigan College students have been accepted into the competition every year since 2019, when they first applied. "Our students' achievement is huge as only 30 students nationally are accepted each year," Karwacinski said.
Karwacinski has also helped organize on-campus events including Diversity Week celebrations, variety shows and positive image workshops.
Looking back, Karwacinski is grateful for the two worlds in which she has lived — Ms. Sawicka, the experiences and the opportunities she has had, as well as for freedom she now has to help students grow and find their purpose and passion. "I owe a lot to the American people," she said, "not only financially, but because I can live a better life with a free mind. I wake up every day and say, 'Thank you.' The choices and opportunities here are incomparable with any other part of the world."