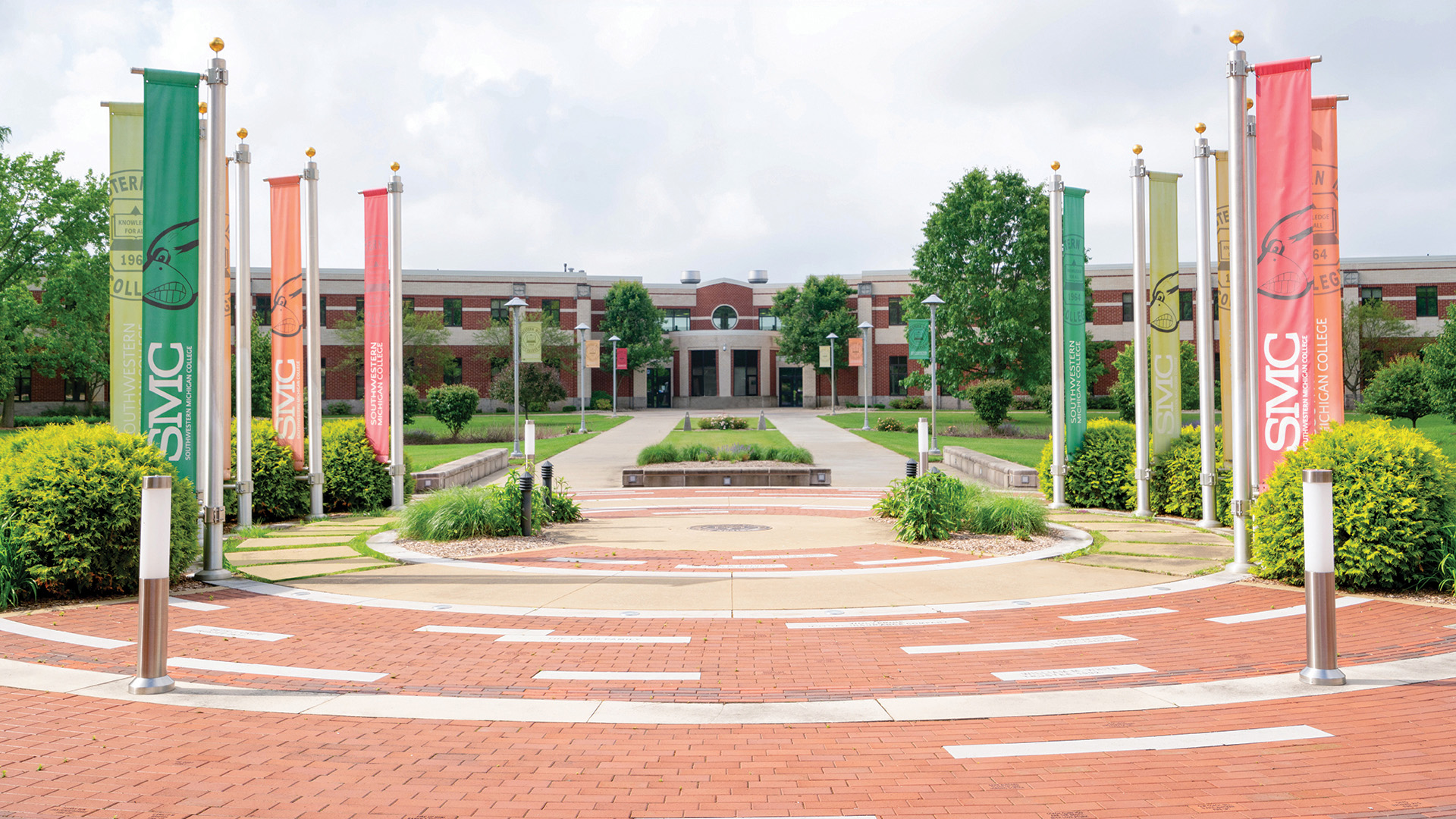 Future Music Teacher Hopes to Study in Washington, Paris
Published on November 23, 2021 - 9 a.m.
Music major Sam Loomis was the first male athlete signed in February for Southwestern Michigan College's cross-country comeback this fall.
The saxophonist was born in Seattle and moved to southwest Michigan at age 7 in 2006, attending Gobles High School his first two years, then graduating from Otsego High School.
After SMC, Loomis, who plays alto saxophone in Symphonic Band and baritone saxophone in Jazz Ensemble, hopes to transfer to Washington State University in Pullman to continue majoring in music education to teach music. He auditions in January.
"I want to study abroad at some point. Probably the Paris Conservatory because it's where all the great saxophonists have come from," he said. "It's also literally where the saxophone was invented."
Adolphe Sax, a Belgian, relocated to Paris in 1842, and patented the saxophone in 1846.
Loomis also sings, appearing in last spring's musical, "Working." In October he played Aiden Mitchell, the congressman's younger brother, in the radio theatre original, "Trouble in Paradise." His own younger brother, Henry, studies history at SMC.
"I was a very busy person in high school, too. I tried to get as involved as I could," taking advantage of Otsego's pool to become a competitive diver for two years with the Bulldogs' swim team.
"I couldn't swim for the life of me, but I fell in love with diving," he said.
Loomis had never been on a cross country team because the fall sport conflicted with marching band, but he participated in track from fourth grade pee-wees through high school.
"I made it to regionals for hurdles in ninth and 10th grades. Hurdling isn't easy, and I was one of the few people on my team who stuck it out. Sometimes we had three to five hurdlers. Sometimes I was the only hurdler. I always ran up to three miles a day," Loomis said. "Running is something I love to do. I'm the first person in my entire family history to ever do a college sport. I feel really good about that."
"I wanted to go to a community college which had a music program, residence halls and a good living environment. There are only a few schools in Michigan that have those options," said Loomis, awarded the Dale A. and Doris Lyons Memorial Scholarship and a Board of Trustees Scholarship. "SMC is close, it has great amenities and a killer music program. With the clubs and on-campus activities, it all came together for me that this is the place."
Loomis is secretary of the tabletop gaming club, Adventurers Guild, "which I and another student founded two years ago." He serves on Keith H. McKenzie Hall's council. With the cross country season winding down, "I'll be going back to eSports in the spring."
"I want to form another club, bird watching," he said. "People who enjoy getting out in the woods and hiking would also enjoy bird watching."
During holiday seasons, Loomis volunteers in soup kitchens.
"When I graduate, I'll have been here two and a half years because I took a gap semester last year because of COVID-19. I got a job and held down the fort to make sure my family was safe. I worked at Subway and at a grocery store.
"I've worked at a gas station convenience store, a golf course, a logging company and a recycling center. Several jobs within the span of five years. I even made snow at a ski resort. I delivered the Otsego Community Shoppers Guide in high school. I was a student custodian, cleaning all three residence halls, but that position was eliminated for safety reasons because of COVID-19, so now I assist (Director of Bands Mark) Hollandsworth."