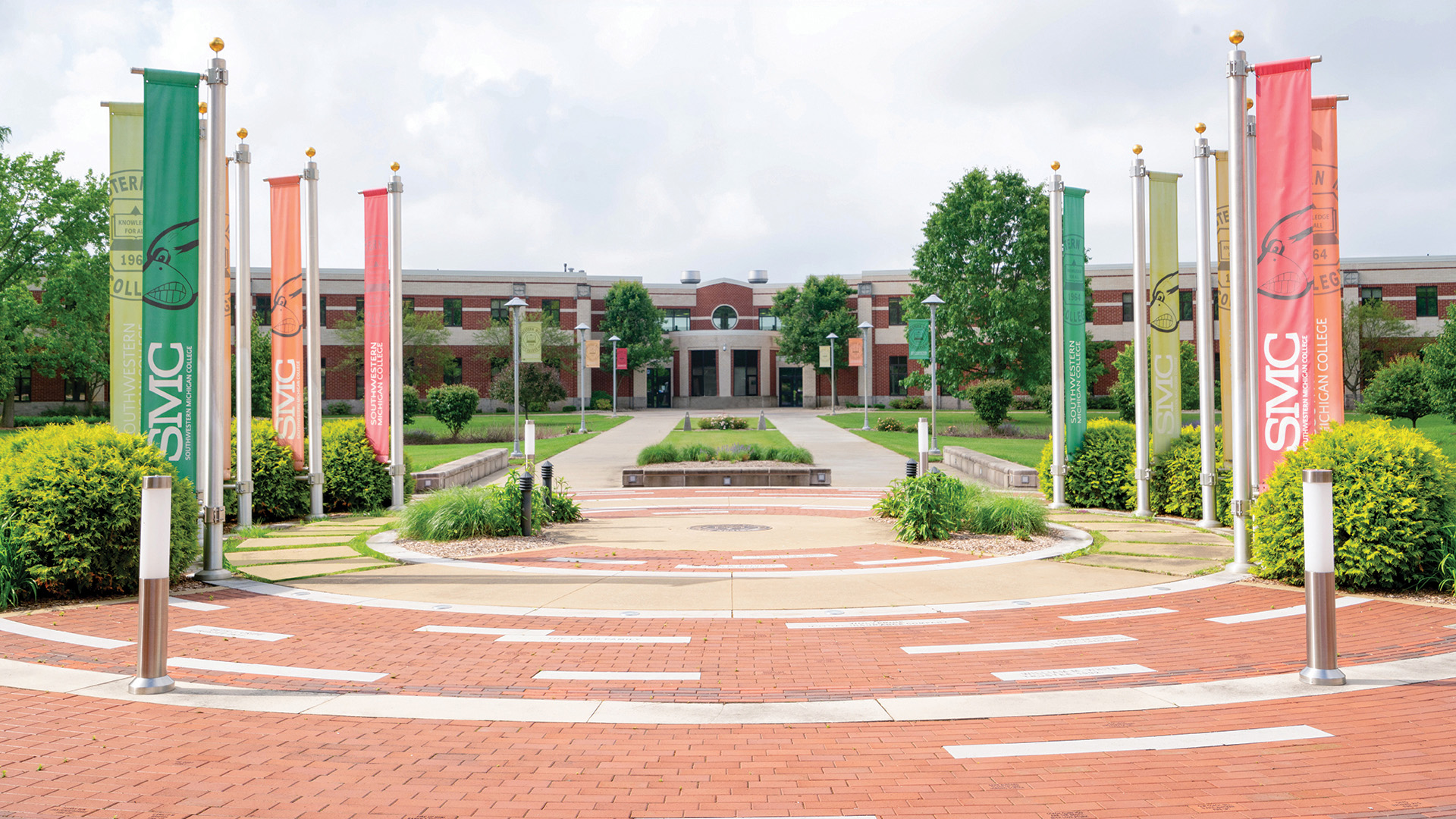 Grady Scholars Program Mentors Tomorrow's Leaders
Published on August 24, 2023 - 9 a.m.
Southwestern Michigan College's leadership-development scholarship program was introduced in 2021. Named for local trailblazer George Grady, Dowagiac resident and Michigan's first African American police chief, the goal of the program is to build student leaders among underrepresented groups and provide them with a jumpstart on their academic and extracurricular goals.
Chief Grady serves as a great model for these students as they strive to be the best they can be, whatever they do. Upon becoming police chief, he said, "When I walked a beat, I wanted to be the best police officer ever assigned to the job. Now I want to be the best chief."
Every year approximately 20 students receive additional leadership training and one-on-one mentoring with this scholarship generously funded by the AEP Foundation. Here are three of their stories.
Bridget Gray Poised for Career in Medical Field
Grady Scholar Bridget Gray of Lowell is an extrovert bubbling with passions which make it hard to predict where she might make her mark.
On one hand, she's majoring in biology and seems poised for a career in health care after working at a nursing home near her home senior year of high school and is currently a medication aide at Forest Glen Assisted Living in Dowagiac.
"I went back and worked there again when I moved home for the summer," Gray said. "I figured I liked what I did there, so why not do it here? I like helping older people."
On the other hand, a former boyfriend got her interested in detailing custom cars and she dreams of opening an automotive business. "Vehicles intrigue me," she said.
Southwestern Michigan College came highly recommended by family friends whose son "thrived" at SMC.
"They thought it would be good for me since it's smaller and I could live here," said Gray, a second-year student who lives in Thomas F. Jerdon Hall, where she has a second job working the front desk. I learned fast about time management."
"I don't really know what I want to do," Gray said. "With a bachelor's degree, I could go the medical field route. I know I want to go into the medical field, I just don't know where yet. I'm still figuring that out. For a long time, I didn't know if I wanted to go to college, but I really have a passion for helping people. My family thought nursing would be good for me. I'm really glad my parents pushed me. I know they want what's best for me."
After SMC, she dreams of continuing at the University of Michigan in Ann Arbor.
"My mom and her siblings went there," Gray said. "My cousins go there."
Her father is an executive at Sysco, the wholesale restaurant food distributor. Her mother is an adjunct marketing instructor at Grand Valley State University who also works at the Van Andel Institute in Grand Rapids.
Getting noticed
Professor Ria Thomas, Math/Science Department chair, recommended Gray for the Grady Scholars, "which surprised the heck out of me," she said. "I really didn't think I was outgoing enough to get noticed. My family always told me to get to know your professors. I did participate a lot in her math class, so maybe that's why I stood out to her. I wasn't a problem for her because I always went to class and I was always on time."
"The program is really nice, and it's a good feeling because you have to have a teacher's recommendation. You can't just apply. I called my parents and they were super excited for me. We met the Grady family" Dec. 7, the same evening as the tree-lighting Jolly Jamboree.
"The Grady Scholarship helped show me that I can be a leader," Gray said. "I overthink and I have a lot of self-doubt, which people don't realize because I'm super outgoing. I'm a Leo. My birthday's in August. We're ambitious, confident and outgoing, but deep down, we don't want to show how unconfident we are."
In the year ahead, before she graduates, "I applied to be an RA (resident assistant in housing)," Gray said.
Lowell, an hour and a half from Dowagiac, is a city in Kent County 15 miles east of Grand Rapids. It is considered part of the Grand Rapids metropolitan area.
Born in Guatemala, she was adopted at seven months, and the oldest of three daughters. The second sister is a high school senior, the youngest in sixth grade.
She imagines going back to Central America, to "see where I came from and who my birth parents are, but it was a closed adoption, so my parents were not given a lot of information. It was very poor and very dangerous, so my parents have always told me they wanted a better life for me. When my family visited there was a curfew and armed men patrolling."
The soccer years
"From freshman year to sophomore year, I did soccer," Gray said. "I was on the junior varsity team. My mom kept signing me up to volunteer at soccer camps and with church stuff. We had this huge garage sale, so I went and helped. My junior year I coached a U8 girls soccer team.
"My senior year I went to KCTC (Kent Career Technical Center), where you're introduced to nursing or police work. I did the patient career tech class, and I passed the state exam for that."
"I don't understand it myself" how she remains undecided, except that her freshman year at SMC, she applied to be a patient care tech in the emergency room at St. Joseph Hospital in Mishawaka.
"It was so fast-paced it convinced me I did not want to do nursing," Gray said. "Maybe if I did a different floor, like pediatrics, I would have had a better experience, but I did not like the ER at all. However, I really did look up to the doctors and the residents because it blew my mind how they knew their stuff. They never seem like they're scrambling around. Learning how they took care of patients was very interesting."
Shiloh Linn Pursuing Psychology Career
Grady Scholar Shiloh Linn of Niles was graduating from Southwestern Michigan College with an associate degree in psychology, intending to transfer to Western Michigan University.
Linn aspires to be a clinical psychologist, helping people deal with problems ranging from short-term personal issues to severe chronic conditions.
Clinical psychologists assess, diagnose and treat mental, emotional and behavioral disorders and are trained to use a variety of approaches to assist individuals.
"I came to SMC because I heard it had a good nursing program," Linn said. "My grandmother encouraged me to apply, and I didn't want to go to a university straight off the bat. That seemed a little intimidating. A community college saves me a lot more money, plus I still get a college experience."
Psychology appeals to Linn "because I like studying people to know the why behind their behaviors. It's rather interesting to study the brain and see why it reacts to the things it does, and what makes up the components of each person. The theories are interesting as well, so I'm taking a deep dive into everything."
In fact, Linn "has my next five years planned out, which is more than most people my age. I'm going to do my bachelor's degree at Western, then my master's program after that. I'll go into the field and see how I feel about getting my doctorate. I knew college would be a long haul.
"The Grady Scholarship is not only helping me develop my leadership skills, it's helping me put myself out there more. I will certainly need leadership skills to help my patients more. I want to be a well-rounded individual rather than fit into one role. I picked Western because it has a good psychology program and isn't too far from home.
SMC faculty have played a big role in Linn's development as well. "(Associate Professor) Christy Tidd is wonderful and helped me develop my passion for psychology by showing me other aspects of psychology I hadn't thought about, such as organizational psychology."
Linn has been involved with SMC's Psychology Club, whose president, Kara Murphy, was a Niles Senior High School classmate.
Assistant Director of Campus Life-Clubs Branden Pompey and Coordinator of Library Services Jenn Davidson recommended Linn for the Grady Scholar leadership development program.
"I'm a pretty good student, I like to help people and I've been involved in a few leadership activities," Linn said. "I was an orientation and Welcome Week leader. Branden is my boss at the SAC (Student Activity Center), and I work in my residence hall," William M. White Hall.
Linn has lived on campus since spring 2022, previously commuting. "I mostly work weekends or Thursday" at the SAC, and Thursdays, Tuesdays and weekends in the residence halls. "I mostly work in the one I live in because that's convenient. I know Jenn because of the LGBTQ Club. I'm active in that and try to help her plan activities as the secretary."
The fantasy world of D&D
Linn is also part of the Crafts Club and the Adventurers Guild organizing the second annual RonnieCon tabletop game convention March 25 combining tournaments with a vendors' fair at Mathews Conference Center West.
"I play Dungeons and Dragons with my group every Friday," Linn said. D&D is a fantasy tabletop role-playing game first published in 1974.
"There are six or seven of us," Linn said. "We play different characters and the DM leads our story."
The DM, or dungeon master, is the game's lead storyteller and referee, running the adventure for the players, who navigate its hazards and decide which paths to explore.
"I'm a pretty creative person," Linn said, "and I like to express myself creatively. I love to doodle and draw, and I love to read. Being able to act out things is interesting."
As part of the Grady Scholar program, Linn packed goodie bags at Christmastime to brighten the holidays for nursing homes.
"We wrote motivational letters and put candy and a little gift box in them," Linn said. "We had a dinner" Dec. 7 in the McLaughlin Family Foundation Suite overlooking 1st Source Bank Fieldhouse with George Grady's sons, Dennis and Ronald.
Cencia 'Sissy' Worley hopes to teach overseas
Grady Scholar Cencia "Sissy" Worley came to Southwestern Michigan College from Berrien County for the Spring 2021 semester.
"I'm a part-time student studying elementary education. I joined the workforce after high school. I managed a gas station for the past 10 years," said Worley, who went to high school in Berrien Springs and has lived in Buchanan since 2020.
"When we went through the pandemic, the state started the Futures for Frontliners program. I was eligible as an essential employee who kept working. I decided it was time to get my teaching degree so I could teach overseas. But in a lot of the countries I'd like to teach in, you have to have a bachelor's degree."
"My aunt taught at a military base in Hong Kong," Worley said. "I'd like to teach in South Korea or Japan. My aunt got to see all kinds of beautiful old architecture, the food looks wonderful and she really seemed to enjoy it."
Worley attended college at another institution for one semester after high school, didn't like it and ended up not going back.
"It was finally time to get out of minimum-wage retail jobs and have a career and travel the world while teaching English overseas," she said.
She learned about the Grady Scholarship in a random e-mail she received, "and I almost dismissed it."
Worley expects to graduate in Spring 2024.
She had considered joining the military like her high school sweetheart to see the world, but disregarded that possibility when she and the recruiter "didn't mesh very well."
Alternative recruitment centers were north of Kalamazoo or 45 minutes south of South Bend. "I lived in Benton Harbor at the time and just didn't want to deal with it," she said.
"The Grady program has been a lot of fun," Worley said. "It was nice to meet other people around my age. One's going for nursing, another for engineering. It's kind of crazy to meet people doing such big programs at such a small school. And they have children, so I don't know how they do it. It's cool to see them going on to other programs. Before I changed careers, I was salaried, so it was easy to cut a few hours during the week to take care of things at school, then work on weekends to make those hours back."
Worley since "completely changed fields. Now I'm a paraprofessional at an elementary in Stevensville. It was a big pay cut, but after talking to my husband, it was the right move I finally needed to make to feel like I was moving on.
"It was a 24/7 store and got old when the world shut down and I was the one still working every single day, no matter what. The first time I ever had COVID was last November. It was like a nasty sinus infection because I had all my vaccines. My husband had it worse than I did."
"The program is a really good opportunity," Worley said, "for people who have to work and go to school. It was kind of nice to get that invitation, to feel like the hard work that I was putting in as an older student — especially in a classroom where a lot of them are fresh out of high school or they're in their second year, and here I am, 10 years older.
"It was helpful to have that $1,000 spread across two semesters. That's two semesters I didn't have to worry about textbooks. That was a little bit less stress to worry about, so I'm super grateful for that."
"This time around," she said, "I'm not a teenager who's too embarrassed to admit you need help. At this point, if I need help, like tutoring because I don't understand something, I'm not going to sit there quietly."
That's her recipe for success, "Less classwork, so I'm not overwhelmed. Making sure I stay on top of my schoolwork. And asking for help wherever I need it. I want my grades high so that when I get to the point where I graduate from SMC and transfer to Ferris to continue my (bachelor's degree in elementary education)."