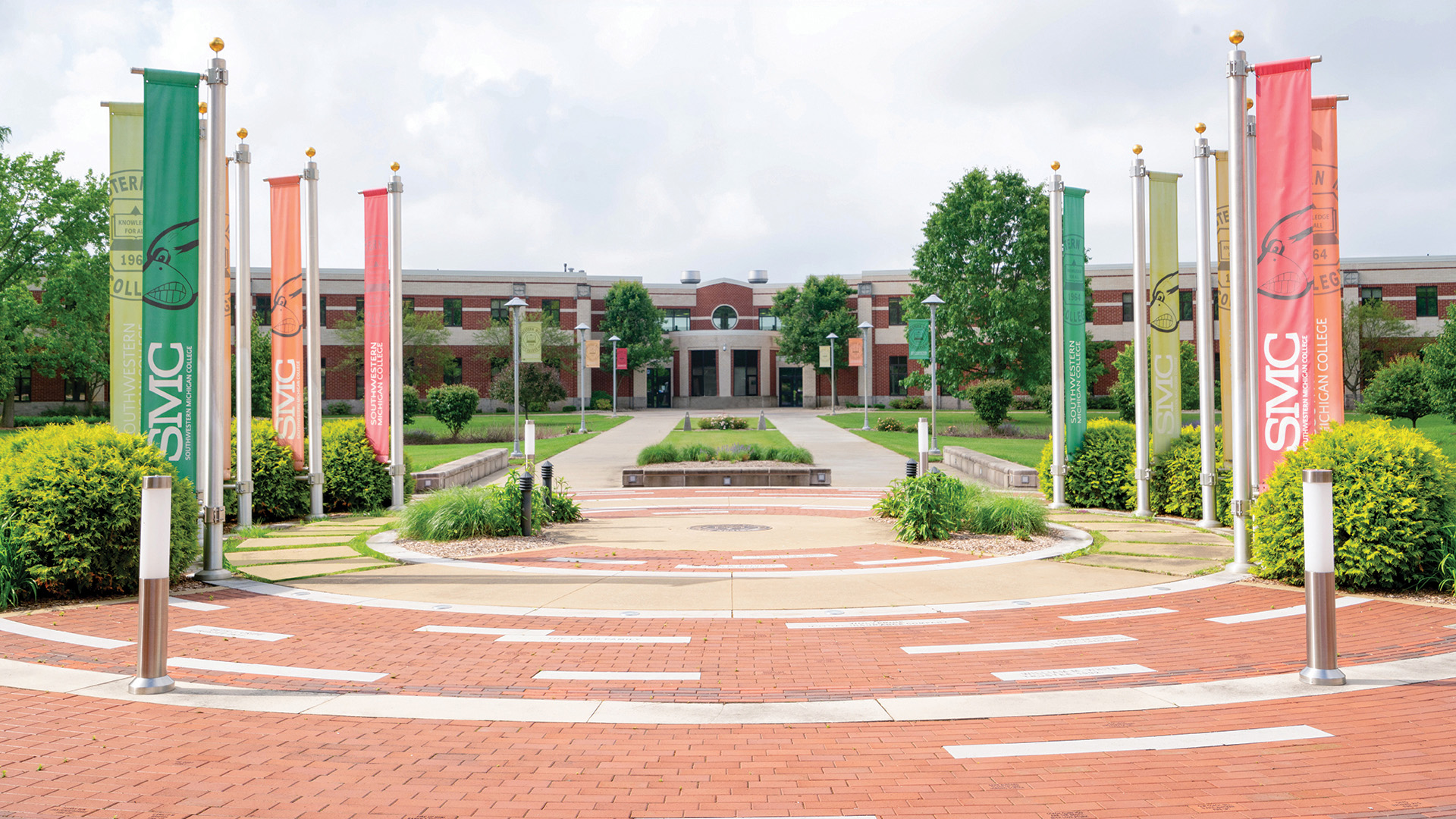 Kelsey Barton Named Academic Advisor/Athletic Coordinator
Published on August 18, 2023 - 10 a.m.
Growing up, Kelsey Barton's life revolved around sports, playing volleyball, softball, basketball or watching her siblings' games.
As an adult, Southwestern Michigan College's new Academic Advisor/Athletics Coordinator still coaches volleyball.
The past two years she taught mathematics at Niles High School, from geometry to personal finance, and to seventh graders at Ring Lardner Middle School.
The oldest of three — her younger brother Chad and sister Carly are twins — she finished high school and her general studies associate degree at the same time in 2016 through early middle college.
Barton attended Grand Valley State University to study physical therapy or athletic training, but ultimately majored in mathematics and minored in psychology. When the pandemic disrupted her path, she completed her bachelor's degree in psychology online through Indiana University East in Richmond.
"I wanted to do the online program because I was teaching fulltime," the Cassopolis resident said. She had passed the Michigan Test for Teacher Certification (MTTC) secondary math test in December 2021.
Niles' junior varsity volleyball coach is "excited to use my background working in education, my bachelor's degree in psychology and my experience as a student-athlete to counsel SMC student-athletes to ensure eligibility and academic success."
At Grand Valley, Barton was two-year club volleyball president, 2019-21. "I was still a student-athlete, but got to see things from the coach's and program director's side."
While in the Grand Rapids area, she was also tournament director for the Michigan Volleyball Academy from November 2018-March 2021, acting as a liaison between referees, coaches, players, parents and event staff.
"When (SMC Volleyball Coach Jenny Nate) started coaching at Niles, that was my freshman year, and I made varsity, so we had our first year together," though Barton never had Nate as an English teacher. Barton has known Wrestling Coach Todd Hesson "since I was a kid" because he worked with her mother in Niles.
Barton transitioned to her new position Aug. 14 from her summer job as a Student Success Navigator for the five-week Roadrunner Ready program, which combined extra help in math and English with an in-depth introduction to academic services to jump-start participants' college success.
"I can connect with SMC students because I know what it's like to have to manage your time, make sure your grades are up to par and you're on the right path for your degree because when it boils right down to it, that's what they're here for."
"I like the idea of working with student-athletes because it's always been part of my life," she said. "Building relationships, having connections, giving advice, hooked me into teaching. I'm here for student-athletes if they have questions to set them up for success."
"Her experience as a secondary educator and her work at SMC as a student navigator really lends to being this academic liaison between athletics and academics," Dean of Student Development Dr. Katie Hannah said. "I believe she'll be a big asset to the study tables, student development workshops and mentoring/coaching students academically given her teaching experience."
Barton will divide her time 60 percent academic advising and 40 percent academic support for student-athletes working out of the Academic Advising and Resource Center (AARC) in the David C. Briegel Building and in the athletic offices at 1st Source Bank Fieldhouse.
In February, while teaching Niles middle school, she completed a 14-hour professional development course certifying her in "Youth Mental Health First Aid." A 2007 manual accompanies the course designed for adults so they can assist young people.
"It's mental health struggles, whether as minor as 'my boyfriend and I broke up' all the way to seeing the signs of someone wanting to harm themselves or others, how to intercept that and communicate once you realize that may be happening, then direct them to professional help. I want to be part of their support system."
With career aspirations falling into place, Barton hopes to work on her "personal niche." She enjoys reading, walking, swimming, working out, going to the beach and playing with her 4-year-old chocolate Lab, Magnolia — Maggie for short.
With her brother getting married in September, she'll soon have a sister-in-law. Cousins have young children, so "I'll be hanging out with family even more" and maybe getting that kayak she got for her birthday a year ago in the water. She imagines learning French or a musical instrument. Foreign travel is another possibility, with Europe as "my No. 1 bucket-list item."