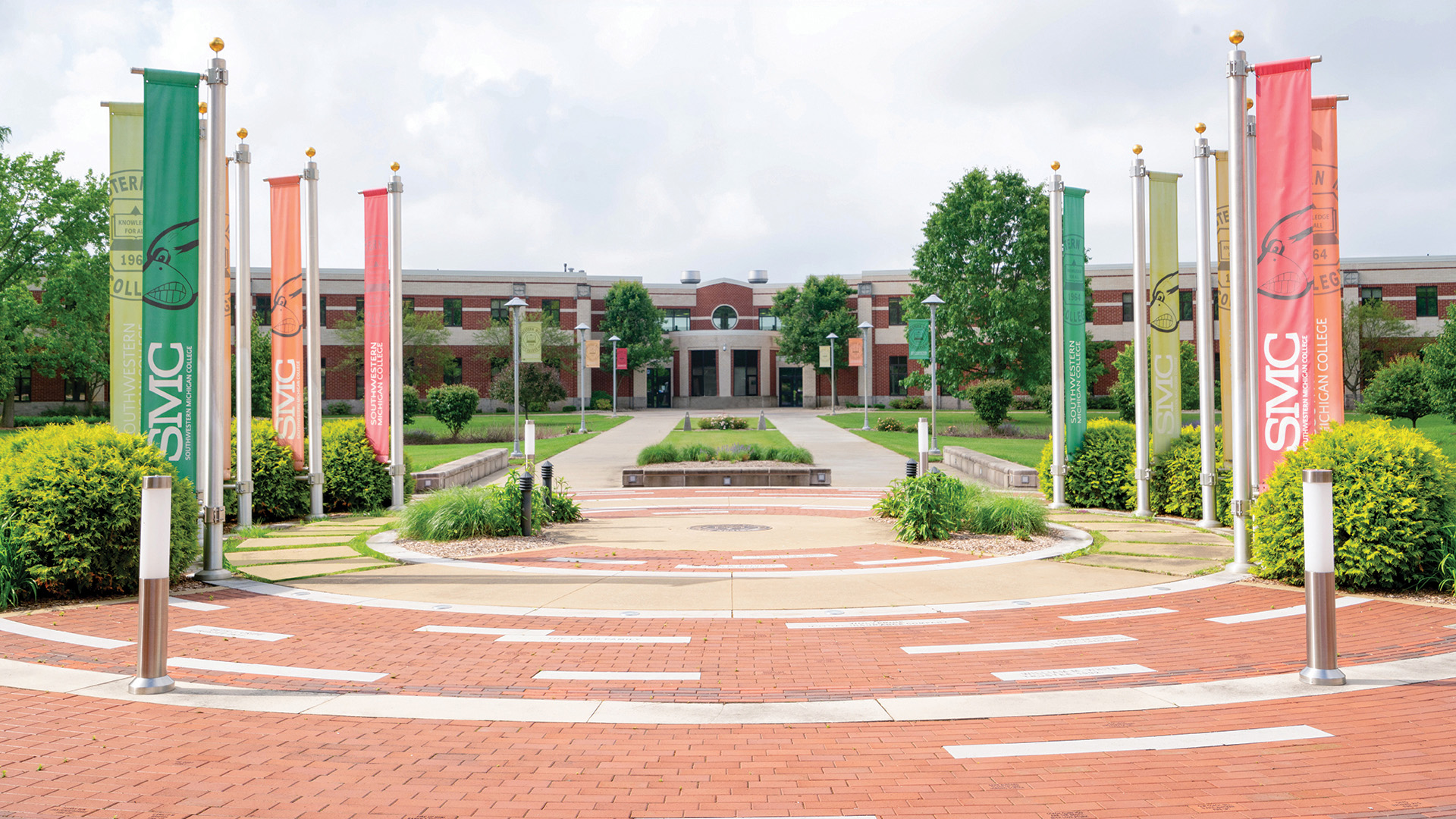 President Bishop Memorial Scholarships Established
Published on August 30, 2023 - 10 a.m.
The Dr. Marshall Bishop Memorial Scholarship for Southwestern Michigan College's sixth president has been established with a $10,000 endowment.
Scholarships will be awarded to math/science degree-seeking students.
President Bishop, who lived in Portage, passed away June 4, 2023, at 80.
He came to SMC in 1975 to teach chemistry, became dean of arts and sciences in 1985 and was vice president of instruction when he has tapped to succeed the retiring David C. Briegel effective July 1, 1998.
He served until 2001 when he retired and was succeeded by Dr. David M. Mathews.
Dr. Bishop, who returned to campus in 2014 to attend SMC's 50th-anniversary celebration, was born in Amsterdam, N.Y., on Aug. 3, 1942. When his family moved to Michigan, President Bishop graduated from Pontiac Northern High School in 1960 and from Oakland University with a bachelor's degree in chemistry in 1964. He also earned a master's degree in chemistry from Oakland in 1967.
In 2003, Oakland's Chemistry Department named President Bishop recipient of its Distinguished Alumni Award.
His career began at General Motors' Pontiac Motor Division as an experimental chemist.
On July 13, 1968, President Bishop married Jacqueline Winter in Marshall. Following Jackie's graduation from Oakland, they moved to Albany, N.Y., where President Bishop completed his Ph.D. in inorganic chemistry.
The Bishops have two children, Eric, who became a chemist, Kathy, and five grandchildren.
When they moved back to Michigan and President Bishop secured a fulltime SMC faculty position, he developed the chemical technology program, from which graduates joined Upjohn (now Pfizer), Donald C. Cook Nuclear Plant or obtained advanced degrees.
President Bishop did not stay retired long, becoming president of Adirondack Community College (ACC) in Queensbury, N.Y., until June 2007.
At SMC, the genial, 6-foot-7 educator was known to dress as the Roadrunner mascot, a brown Big Bird. He loved sports and played basketball into his 60s.
At the turn of the century, SMC had a Speakers' Bureau. Dr. Bishop logged close to 200 presentations, from visually entertaining chemistry experiments to more personal topics, of which he had plenty.
Topics included chance and lucky accidents, Burma-Shave (the shaving cream advertised on sequential roadside signs), ice harvesting, the Erie Canal, the Michigan Clinton-Kalamazoo Canal, collectibles and the American general store.
He had a strong interest in history and began researching the Erie Canal because he grew up near it. Other topics developed from his work with the SMC Museum.
He was often scheduled 18 months in advance and presented as far away as Jackson, Hillsdale, Kalamazoo and Battle Creek. He continued such presentations for the ACC Speakers Bureau.
Then there's his Kellogg's collection. At home on a Saturday in early 2000, the phone rang. Tony the Tiger was on the other end of the line.
Thurl Ravenscroft, voice of Tony, had been telling how Grrrrreat! Frosted Flakes are since 1952.
He received an autograph request from President Bishop and was amazed a college president wanted the real Tony the Tiger's signature. He not only sent an autographed photo and baseball, Ravenscroft placed the call to Dowagiac from his California home.
President Bishop was extremely active in his communities, serving here on the boards of Southwest Michigan Economic Growth Alliance, Encore Dance Company, Cass County Historical Commission, Cass County United Way and Borgess Lee Memorial Hospital, among many others.
The SMC Foundation accepts contributions to existing scholarships in addition to establishing new scholarships.
Direct endowment donations to: SMC Foundation, Director of Development, 58900 Cherry Grove Road, Dowagiac, MI 49047.
Contact Emily Schrock at (269) 782-1279 or eschrock02@swmich.edu for more information.