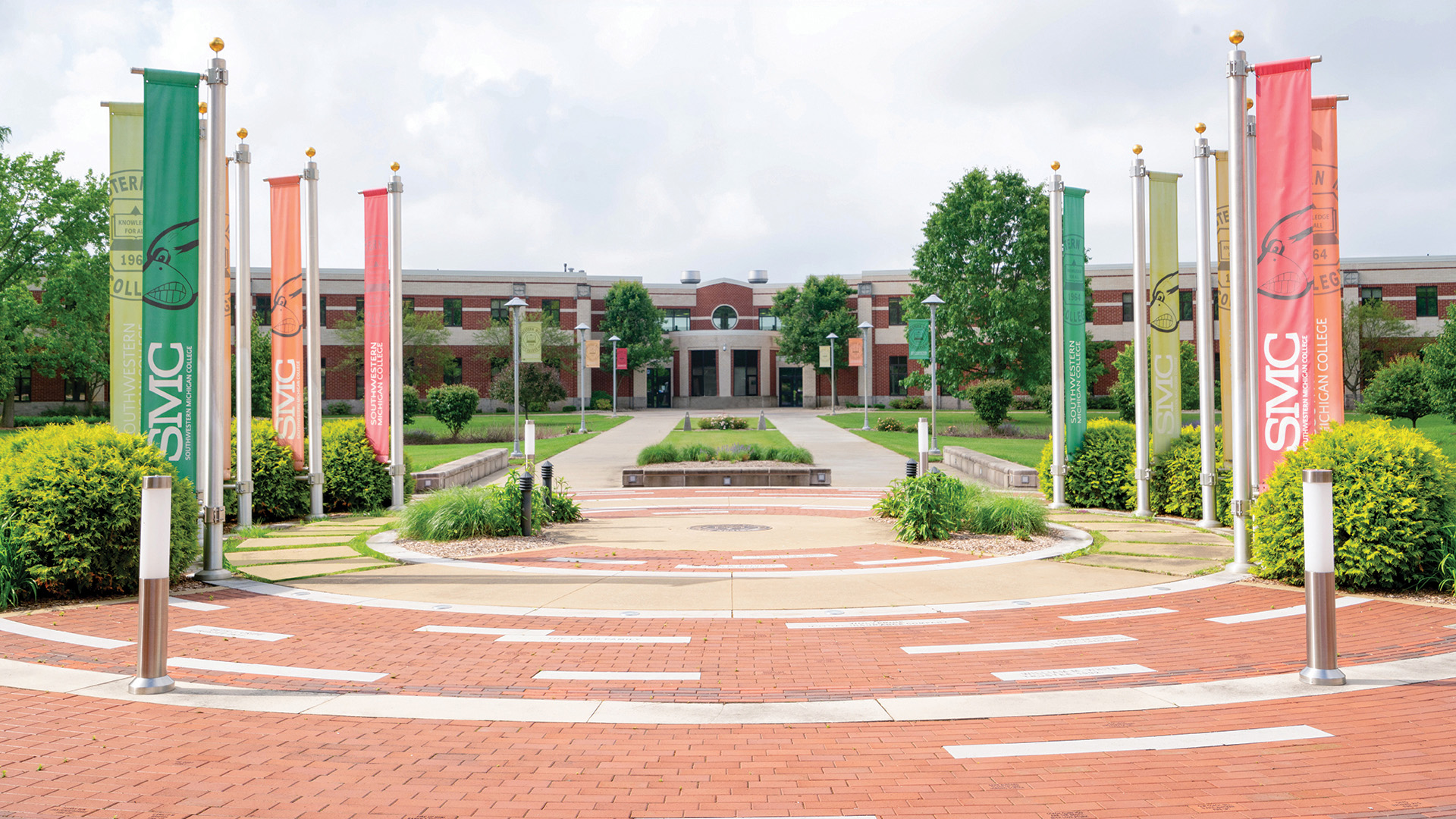 SMC Graduate Welcomed Home
Published on December 21, 2021 - 11 a.m.
A post card enticed Kyra DeLoach of Sturgis to investigate Southwestern Michigan College.
She pursued an associate degree in graphic design with her Green and Gold and visual arts talent scholarships, becoming an outstanding graduate in the Class of 2017, including all A's on the President's List that spring.
Her "fantastic experience" at SMC included developing her communication skills as an EXCEL Ambassador, her design skills as an intern in SMC's marketing office and widening her art appreciation by visiting ArtPrize in Grand Rapids.
But she never did realize her goal of serving as a Resident Assistant (RA) while living in William M. White Hall, so she folded that into her aspirations upon transferring to Indiana University South Bend (IUSB).
Not only was she an IUSB RA for three years and design and layout manager at IUSB for the student newspaper, The Preface, she spent one as Senior Resident Assistant for an institution with eight housing buildings subdivided into 16 "pods" while completing her 2020 bachelor's degree in fine art with an art history minor.
"I put my heart and soul into housing and student life," she said.
SMC's Welcome Week tagline, "Welcome Home," especially resonates with DeLoach, who returned to SMC this fall as Keith H. McKenzie Residence Hall Manager (RHM).
"Not everyone gets the opportunity to work where they live, but for the past four years my job has been my home and my co-workers have been my best friends," she reflected as she departed IUSB.
That post card that started it all "was one of the first pieces of mail I got from a school, so it was special. And it was so pretty I put it on the fridge," DeLoach recalled. "My mom pointed out it was for an open house at SMC, but I was going to go to a different school, so whatever. In my hometown, everyone wanted to go to Western Michigan. But I ended up coming to the open house and signed up for housing because I just loved the campus, and everyone seemed so excited. I was interested in design, so the post card made sense to me. Originally, I was interested in marketing because I liked working on a team in an office setting. I wasn't into logo design or freelancing, but after I did more projects, like magazines, I liked layout. I never thought about working for a newspaper until I went to IUSB."
Joining SMC's 2016 ArtPrize bus trip to Grand Rapids, where she was photographed wearing an astronaut's helmet and interviewed afterward, DeLoach said, "ArtPrize is always very interesting to me. I look forward to going every year. I am a graphic design major, so I always have loved art. The whole experience was very fun and I'm very thankful SMC gives me and other students the opportunity to go explore the city of Grand Rapids and see all the art each year!"
"Back then, I wanted to be an RA to challenge myself in a leadership role," DeLoach said. "I applied to be an RA, but I was so nervous in my group interview I didn't really talk. They took a chance on me as an EXCEL Ambassador. I loved my RA," Breanna Rees, who started in the fall of 2013, continued in accounting through Ferris State University, then worked in SMC's business office. She recently joined Saint Mary's College as students account manager.
DeLoach's SMC roommates were all from South Bend and Elkhart, so she honed in on IUSB "if I could be an RA. That was maybe not a realistic goal, but I applied anyway and got the job out of like 30 people, then I applied to IUSB. Being an EXCEL Ambassador gave me confidence."
DeLoach grew up taking art classes at the local Open Door Gallery.
But her mother reminded her, "You need to make money." Graphic design seemed like a way to do both. Even with art taking a backseat in her current position, she's keeping a hand in that realm, designing, for example, the flier for the Sept. 11 Renaissance Faire.
"After I was an EXCEL Ambassador and an RA in South Bend, I really wanted to be an example for more introverted RAs," DeLoach said. "You want to have different types of personalities feel comfortable coming to talk to you. People who are more introverted might not feel comfortable talking to someone who's more extroverted. They might be intimidated. I like the community within housing and how it works. You have to set boundaries with yourself since where I work is where I live, but it's good in some ways because you're always available."
She said she and the other two RHMs, Adrian Leversen of Thomas F. Jerdon Hall and Alex Fiks of William M. White Hall, rotate duties to preserve some time for themselves.
"I love arts and crafts in my free time," she said. "I have a lot of hobbies, like cross stitching and knitting. I like antique shopping. I love jewelry and Kewpie babies. And I love looking at other people's stuff. I like the antique malls with booths. I went to Coloma" on Labor Day. She also enjoys playing Animal Crossing, the video game series Nintendo developed.
Coming out of college during a global pandemic to job hunt was not an ideal situation. After she moved home in May 2020, "I wanted to work so badly I took a job in a bank" and did some newspaper design work for the Herald-Palladium in St. Joseph.
" I flipped between student affairs jobs and design jobs because I was open to either. That was a little less than a year. I returned to the auditorium in the meantime." Her first job had been in catering for three years at Sturges-Young Auditorium.
"I was really hard on myself, but you can't plan on a pandemic when you graduate college. It's already stressful and hard because you don't have experience. I couldn't believe this was happening because once I saw the RHM posting, I really wanted to come back here," she said. "Everyone who knows me knows how much I loved being here and loved Dowagiac, which was a really good transition from Sturgis. I learned a lot about myself and grew even more during the pandemic, so this is better than if I had jumped right in after graduation."
"I would like to stay in student affairs for the rest of my career," she said. "I would like to stay here for a couple of years at least."
"It's hard to answer" what's rewarding about such work, she said, "because a lot of the impact you make on students you don't see right away. You don't see until they leave, or years down the road."