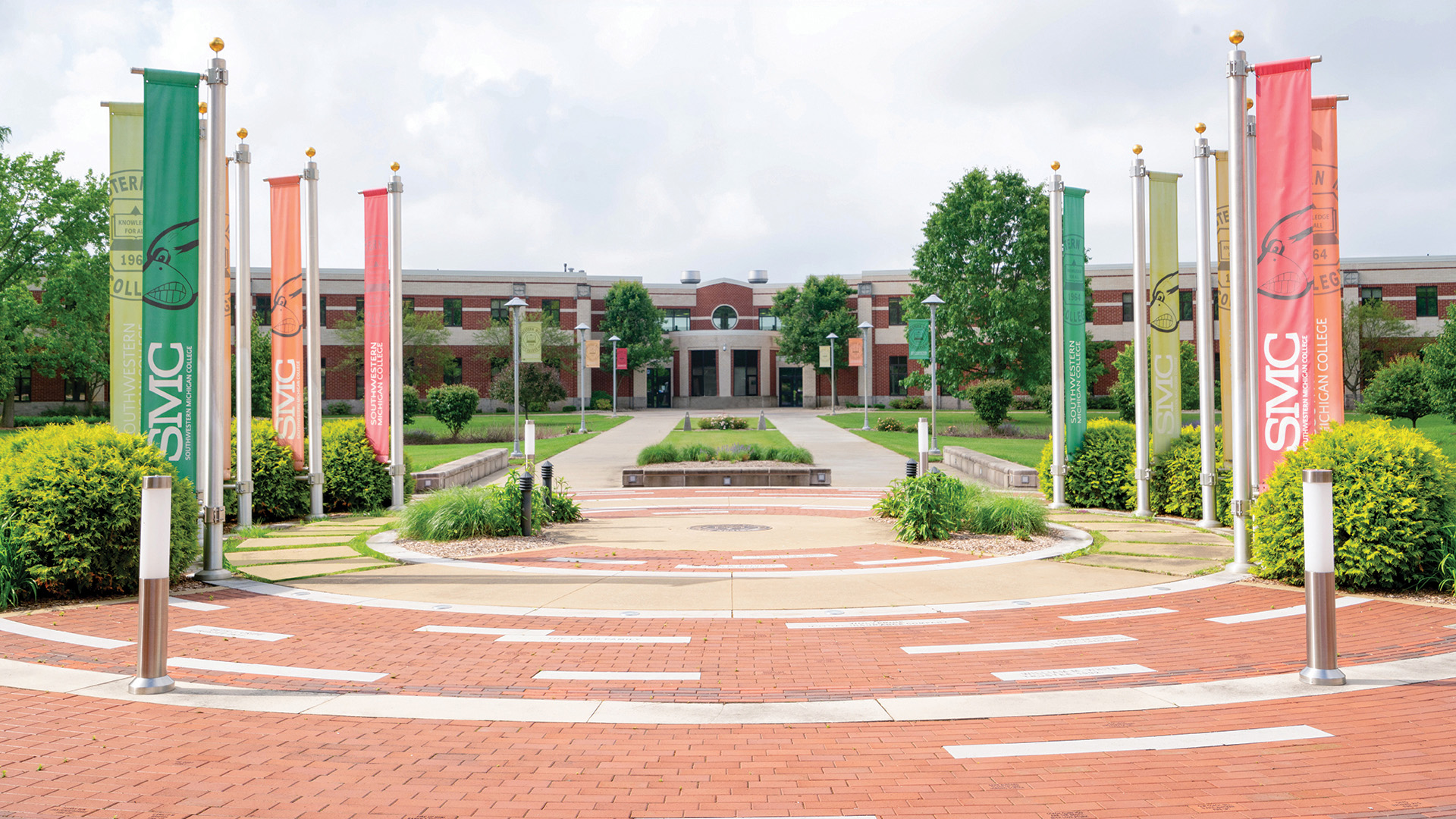 SMC Hosts 375 for Nursing and Criminal Justice Day
Published on November 15, 2022 - 11 a.m.
Stacey Laubach was the flight nurse on the Memorial MedFlight helicopter which landed behind Southwestern Michigan College's Dale A. Lyons Building Nov. 11 in response to a mock crash for Nursing and Criminal Justice Day.
Laubach, of Niles, graduated from SMC with her associate degree in 1992 and was a member of Dowagiac Union High School's Class of 1986 with Steve Briegel, for whom Steve's Run is named. Her niece, Macey, plays basketball for the Roadrunners.
"Even after 29 years," she said, "it's continuous education all the time. It's been a wonderful career that started right here. The opportunities are endless."
The exercise concluded in the theatre "ER" with nursing students taking over treatment from Laubach and her colleagues.
The Corewell Health Lakeland Hospital emergency room nurse narrating the "controlled chaos" onstage, Tonya Gonzales, also graduated from SMC, in December 2016.
Gonzales agreed with Laubach's assessment. "In the medical field, you'll always have a career somewhere. I started off as an ER tech, worked in X-rays and was an EMT. I've been a nurse for six years, but I've been in the medical field for 30. There's always an opportunity to learn something new."
Three hundred and 75 students lined the parking lot perimeter to watch the chopper landing, the arrival of first responders with sirens wailing and Dowagiac firefighters cutting a trapped victim out of his car.
Students participated from Elkhart Area Career Center, Van Buren Tech Center, Coloma, Niles, Lakeshore, Covert, Cassopolis Ross Beatty and Marcellus.
SMC's School of Nursing and Health Services, in collaboration with Donald Ricker's Criminal Justice program, staged the educational exercise with a scenario of multiple emergency vehicles and first responders and the medical helicopter.
Each career field has different assignments simultaneously at a crash scene. Police preserve the scene for investigation, provide first aid to patients, protect fire and Emergency Medical Services personnel and conduct field sobriety tests on drivers suspected of operating while intoxicated (OWI).
"In this scenario," said Michell Outlaw, Police Department Executive Secretary, "we have two vehicles, one driven by Emily and Drew, who have been out partying all night and are intoxicated. The silver vehicle is being driven by Lizzy and Mark, who just finished dinner with family. Emily and Drew are yelling and swearing when they run the stop sign and T-bone Lizzy and Mark."
Fire personnel prioritize personal safety while stabilizing patients, taking precautions against possible fire and assisting EMS (Pride Care Ambulance) with freeing, treating and transporting victims.
The helicopter, flying at 139 mph, arrived from South Bend in no time. It circled the landing zone to visually inspect light poles before setting down on the flat, paved surface. Laubach and two other crew members must be satisfied before taking off or landing.
Cash, Dowagiac Police Department's K-9 officer, visited Ricker in the William P.D. O'Leary Building with his handler, Kevin Roman. Cash, a Belgian Malinois, succeeded Tole, a German Shepherd that retired.
SMC offers majors in criminal justice, nursing, nursing assistant (CNA), emergency medical technician, health services, medical assisting, MRI technology, fire science, neurodiagnostic (EEG) technology and phlebotomy.
Applying is easy, fast and free. Fill out the online application here. You should receive a decision letter via email and/or mail in one to two weeks.