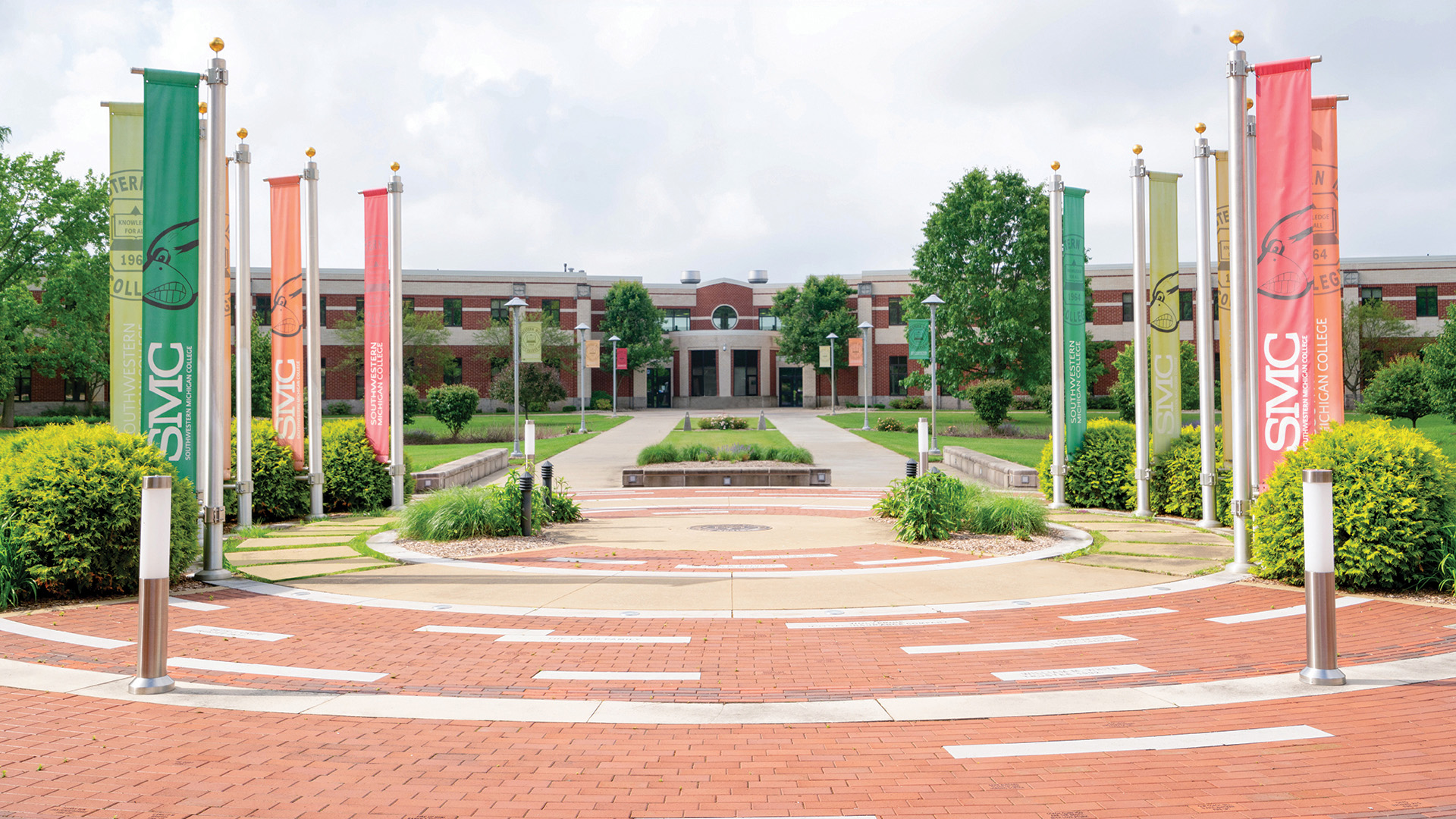 SMC Mourns Loss of Two Dedicated Staffers
Published on January 5, 2022 - 10 a.m.
One of Southwestern Michigan College's three original coaches and its first public information director passed away in the waning days of 2021.
James J. Judd, Southwestern Michigan College's only wrestling coach for almost a quarter of a century, passed away Christmas Eve, just days short of his 84th birthday Dec. 29.
Gloria Cooper died Dec. 27 in Grand Rapids. She was 88. She lived in Niles most of her life and was a well-known radio personality when she joined the college in 1979.
Coach Judd, a native of Ohio, joined SMC in 1968 and served as coach from 1968 until 1992, when the program was discontinued. When 1983-85 Roadrunner grappler Todd Hesson resurrects wrestling as head coach beginning Jan. 10, it will be the 30th anniversary of its departure.
Mr. Judd, enshrined in the NJCAA Wrestling Hall of Fame in 1990, produced 85 Academic All-Americans, The Southwester reported on Oct. 7, 1991.
In 1990, "Judd's Studs" ranked 20th in the nation, with four of his 15 grapplers achieving Academic All-American — Troy Bahler, Jeremy Fair, Rick Ruhl and Andy Solomon. Ruhl earned the distinction two years in a row. Bahler placed third at nationals.
His 1972-73 team received an NJCAA award for having the largest number of academic All-Americans. More than 150 former wrestlers went on to four-year colleges and universities. Nine former Roadrunners coached in the immediate area, including Hesson for Niles.
The 1956 graduate of North Baltimore, Ohio, High School enlisted in the U.S. Army and served his country from 1956-1960 as a paratrooper. He continued his education by earning a bachelor's degree in elementary education from Findlay University and a master's degree in physical education from Bowling Green State University.
Before teaching physical education at SMC brought him to Michigan, Coach Judd taught and coached with the Spencerville Public School System; Ottawa-Glandorf; and Otsego Schools, all in Ohio.
Coach Judd was one of SMC's three original coaches, along with Ron Gunn and the late Jim Tansey. The men's basketball coach played for John Wooden at South Bend Central before the "Wizard of Westwood" won 10 NCAA national titles in 12 years, including seven straight, for UCLA.
Early in his career, Coach Judd established a close friendship with Chris Taylor, Dowagiac's Olympic wrestler. After Taylor's death, Coach Judd, who served four years on the Dowagiac City Council, inaugurated the Chris Taylor Open, which annually attracted hundreds of high school wrestlers.
Memorials are being made to SMC's Bea and Jim Judd Endowment. Coach Judd spent 38 years with SMC, until 2006. Mrs. Judd contributed 12 years in the financial aid office, or 50 total for the couple.
Mrs. Cooper graduated from Niles High School in 1951 and attended Albion College. After fine-tuning her communications skills, she landed a job as women's director for Niles Broadcasting Co. Mrs. Cooper began a talk show on WNIL in 1966 called "Here's Gloria." The show ran for 13 years.
Her experience in broadcasting and work as a Niles Daily Star columnist gave her the edge to land the new public information director's job at SMC.
In addition to achieving her professional goals, Mrs. Cooper kept busy being a wife to Richard and mother to four children. Despite the pressures and time restraints of juggling both, she felt motherhood helped her career.
As she told The Southwester in 1994, "I try to be a good role model for my kids and the people here at the school. It is important for the students to develop a positive self-image, and a lot of that comes from parents."
Mrs. Cooper earned accolades through the years. In 1975, she received "Woman of the Year" from the Niles Business and Professional Women. In 1986, she received the Athena award from the Michigan State Chamber of Commerce, an honor presented to women for outstanding community leadership. She was the first Niles woman to receive the award.
Brown Funeral Home and Cremation Services of Niles is in charge of arrangements, including visitation and her funeral service on Friday, Jan. 7.