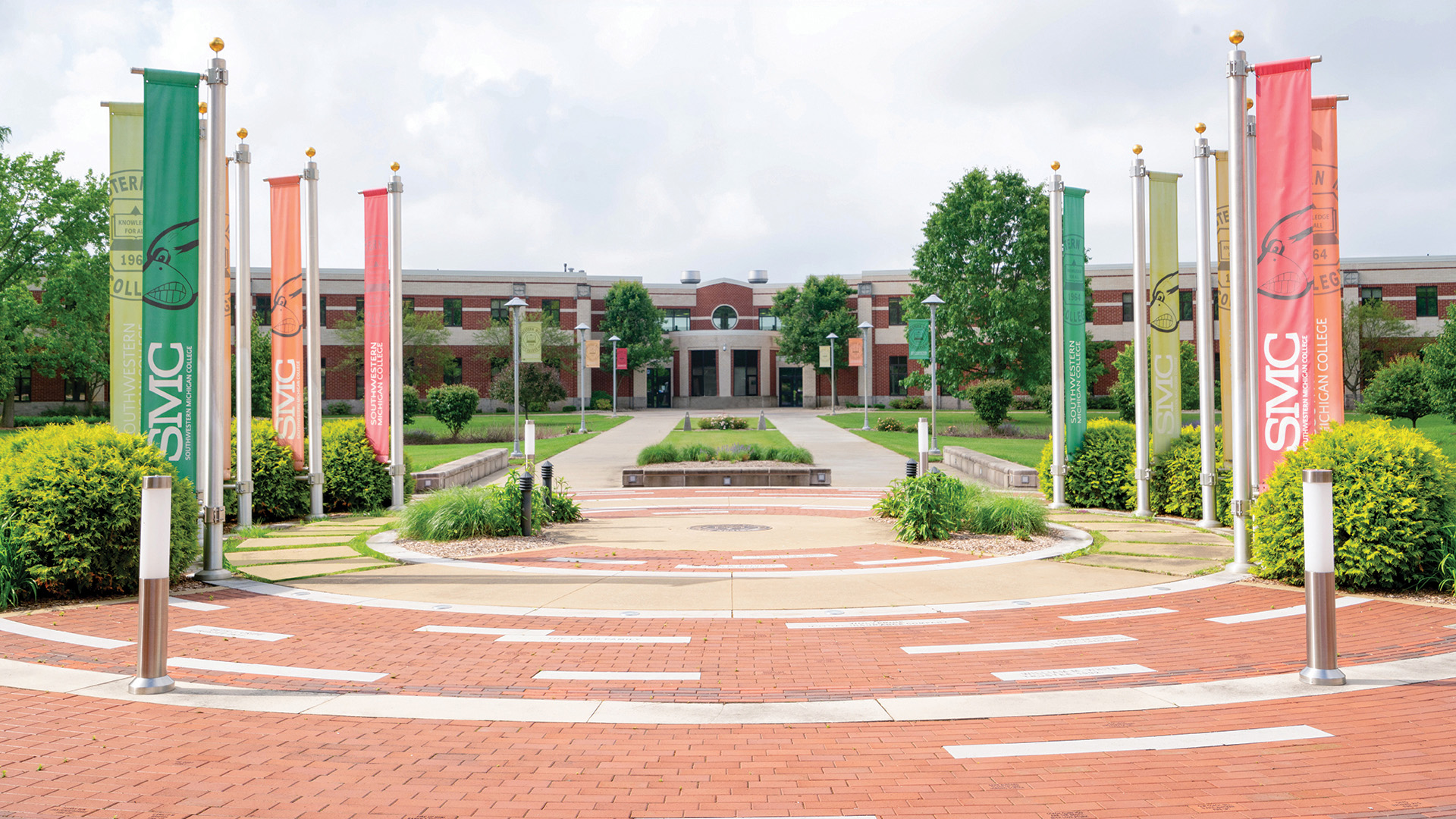 SMC Stabilizes Enrollment, Retains AA Rating
Published on September 15, 2022 - 2 p.m.
Southwestern Michigan College's Board of Trustees heard about "stabilized" enrollment, a three-year renewal of its Standard and Poor's AA credit rating and the energized environment intercollegiate athletics is contributing during its Sept. 14 meeting on the Dowagiac campus.
In his president's report, Dr. Joe Odenwald said the 1,842 students place SMC second among 28 community colleges with a 5.2-percent increase in credit hours and fifth with the 3.3-percent headcount boost.
"Dual enrollment went from 359 to 456," Odenwald said. "New traditional students went from 431 to 506. Make no mistake, this was a hard-fought increase. We did a lot of recruiting and orientation events. This enrollment gain is like old-school Big 10 football — three yards at a time.
"The residence halls are at capacity. Campus is abuzz at a higher level than pre-pandemic. Welcome Week had record attendance, the student section was rowdy last night and classes are better filled. Saturday was the fifth Renaissance Faire with a record turnout of 300 people. While this is just Week Two of classes, we've had students here since July as part of athletics — volleyball, dance and cross country all began practice in August. Basketball and wrestling are doing limited work. Bass fishing competed most of the summer, and they're heading to Kentucky this weekend."
The night before, the Roadrunners' women's volleyball team swept the Kellogg Community College Bruins in three sets.
"When you see the environment we had last night and the engagement and the excitement on campus the first couple of weeks," Odenwald said, "it's going to pay off. The enrollment situation is stable and we're going to be a livelier campus than we've ever been."
Board of Trustees Chairman Thomas F. Jerdon traced the transition from a commuter college with athletics and low attendance to a residential campus with intramural athletics.
With the return of NJCAA athletics, "We're both," Jerdon said, "and you could see the difference last night. It was deafening. Really connecting kids to this campus is going to pay dividends years from now, and enrollment will come. I've never seen anything like it on this campus, ever!"
"It was awesome!" Trustee Tracy Hertsel agreed.
The AA rating acknowledges that the college stabilized enrollment and stayed financially strong despite pandemic challenges.
Standard & Poor's felt that SMC was taking steps to mitigate enrollment trends through new offerings, local partnerships and other strategic efforts, including the return of athletics. The report stated the confirmed rating reflects the college's "stable general fund performance while maintaining very strong reserves." It also mentioned as a positive indicator SMC's "access to larger economic and employment centers throughout southwestern Michigan and northern Indiana."
"The AA rating lets our taxpayers know that this institution is well managed," Jerdon said.
In other business, Trustee Dr. Elaine Foster presented Communications Professor Dr. Maria DeRose with her 10-year service pin.
DeRose holds a master's degree in English from Western Illinois University, a master's degree in American cultural studies from Bowling Green State University and her doctorate, also from Ohio's Bowling Green.
DeRose teaches composition, literature, film and pop culture, developed an American ethnic literature course and is developing a new course on women and gender studies. In conjunction with the Diversity Committee, she coordinates therapy dog campus visits to relieve stress at the end of each semester.
Trustees accepted eight gifts to the college totaling $21,700. The board also acknowledged 18 donations to the SMC Foundation for $23,580.